ApMa Outreach Supporters
Apr 07 2009
Dear Friends, We are in town again (Madang, PNG) but ready to head back home tomorrow so I thought I would take the time to share a couple of thoughts and pictures while we have the good internet connection. Below is a picture taken in the Highlands looking over the Ramu valley and yes those are poinsettas on the side of the road.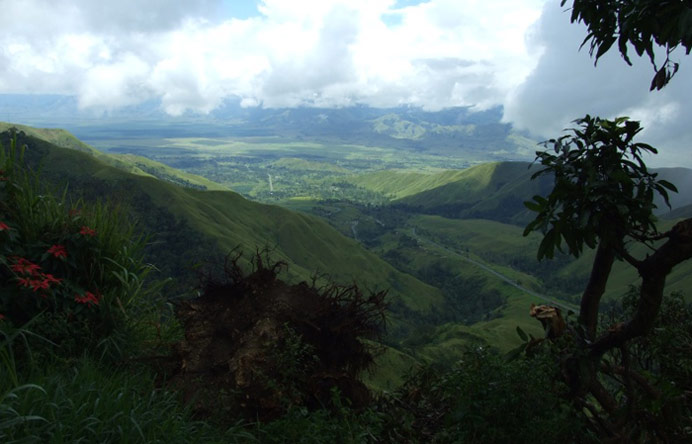 BIG THANK YOU
First, thank you so much for the overwhelming response to our last newsletter your notes and emails and prayers were wonderful. It is so good to know people care and take the time to read and pray for our specific needs.
Scholarship Applicant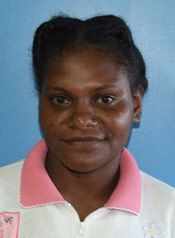 Secondly, many have asked about Clementine, our student who applied for the OIPNG Scholarship. We are waiting for her response now. We have met with her and her family and extended the offer of assistance. Realizing that it is a contract and that she will agree to work in the village for the number of years she is assisted is a big decision and not one to be made quickly. Most kids dream of the chance to get out of the village and very few (once they have reached the point in their education where they will have that opportunity) would give it up for the sake of their people. It will take a special person with a humble heart to serve and to take us up on our offer. We know we are asking alot, but we want God-directed individuals on our team here not just anyone who can pass a standardized test. Keep praying that she will have the courage to serve. There are two more applicants waiting on school acceptance letters. Please pray that those letters come quickly as they are eager to go.
Samban School Request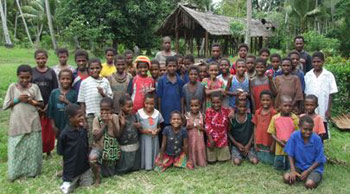 Thirdly, some have asked about our needs especially where the school is concerned. Well, I will lay before you a dream and see if anyone shares my vision. Most schools here would be similar to school in the US 1800's. We are in hopes to take a portion of those students in grade 2 and up, who have high marks, and keep them for an extra hour three days a weeks to review their lessons on computer. We have all the programs we have purchased with our children. We even have an old computer (that has so many glitches it isn't worth much) but will run the games and typing tutor. What we would like to see is 4 more laptops donated. They do not need to have anything but the capability to run CD-ROM computer games. The ones we would like to have them work on are math, typing, reading, and geography. The current statistic for our school system is 1 in 200 make it to grade 12. We want to increase that to 5%, but the outside communities that they will compete with, especially the town districts, are getting so advanced that most of our bush kids can't keep up. We feel this may be one way to level the playing field and make use of the old solar panels on the classroom since all laptops can run on 12v. If you have an old laptop that still runs but you have no further need of it, would you consider donating to the children of the Samban Elementary school? We have teams coming this summer who can carry them in hand to assure that they will not be damaged. We hope to start this computer lab second semester which starts in late July I believe. Thank you for considering this request, obviously the more computers we have the more children we will be able to involve in this program.
Problems in Madang
Fourth, a matter of prayer. Madang (the town we do most of our shopping in) has recently been flooded with Chinese here to do a mining project and while this has generally helped businesses many Papua New Guineans are disgruntled at the number of Chinese taking PNG jobs. They have begun to riot and protest often getting very violent in public places and wrecking stores owned by foreigners. Please pray that these acts of violence would cease, that police would attend to the matter swiftly, and that those affected may find a way to be gracious under fire. Tomorrow we head back out to Samban. Please pray that items fall in line for the commencment of construction on the literacy center. So much to do. Thank you for taking time to catch up with us.
Jesse Karie Naleh Elijah and Judah.
(Pictured below a pic of a typical highlands house from our recent trip to deal with the crate)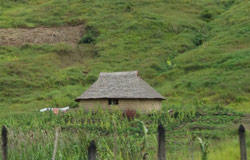 Other Entries