Merry Christmas from the Pryors
Jan 13 2008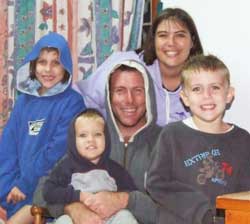 Dear Family and Friends,
Another year has almost slipped away. Time really flies these days. I had to struggle to think where we were at Christmas last year but, we were here in Samban. And here we are again. It just doesn't seem like Christmas without all the seasonal reminders on every house. I always thought that decorating for Christmas was a little overrated but here where there are no decorations, no carols, no Santa at the mall you find it hard to believe it is indeed the Christmas season. I was just working on our furlough plans yesterday and realized that if we stick to our plans, the next Christmas we spend with our families will be Christmas 2010. I remember when I was little how mom and dad would sneak into our room in, what seemed like the middle of night, bundle us in homemade afghans and throw us in the back of the Buick - one on the back seat, one on the floor board, and one in the back window where we would sleep (or pretend to) all the way to Ft. Wayne to be with the Peck's for Christmas and then at 1:00 double back to be with the Able's for a big dinner and the Christmas story and cousins tearing into L.S. Ayres bags. Then our family celebration which was held whenever mom and dad couldn't stand the whining anymore, usually the night of the Christmas candle-light service so we could wear our new P.J.'s to the 10 pm service. WOW! So if you have family nearby this Christmas make sure do all those hokey family traditions that you love to hate because those are memories that last.
This year has been full of nice surprises we have had visitors from everywhere. Mom and Dad and Ryne's time was definitely a highlight. It was such a good time for the kids to get to know Grandma and Grandpa and they haven't forgotten them yet! They are already counting the days until we will see them again.
We have met new friends from Greenwood CC and hosted Interns with PBT. These special people have made our year fly by and given us the opportunity to serve the people here in a unique way. Using the gifts of our visitors we have created vernacular study guides for the book of Luke and made a new vernacular song book for church. We have been able to run a 2 week free clinic and now have opened a small private clinic in the village where people can have daily care. We have built a new building to house the generators and extended and graded the airstrip as well as timbering and milling some of the lumber needed for the future literacy center. It has been a busy year!
Our family has really grown, too. Last year Judah was just 1 year old and now he is a terrible 2 and with Naleh in first grade and Eli finishing up preschool there is never a dull moment. Naleh had many firsts this year. She is reading short stories, she learned to swim and she lost her first 5 teeth! Eli has really become a little man. He is doing well in school and eager to learn the things his sister is learning. He is writing his alphabet, learning to do the things little boys do - shooting his bow and arrows and slingshots. Judah is a very talkative 2 year old but he only speaks Pidgin! He loves to run and race with his friends. He really likes the 4-wheeler and to go to the garden with mama. He also loves to sing and dance - he really loves music! Well I think that brings you up to date on our family and friends. Even though we are far apart this Christmas season know we are thinking of you all and wish we could be with you to celebrate this time together. If you have a crazy holiday family tradition you would like to share with us drop us an email at .(JavaScript must be enabled to view this email address) We will share the best family tradition in our New Years news letter!
Jesse, Karie, Naleh, Elijah, and Judah Pryor,
O.I.P.N.G
Other Entries